Doenjang jjigae is a variety of jjigae or stew-like Korean traditional dish, made with doenjang (Korean soybean paste) and available ingredients such as vegetables, mushrooms, seafood, or dubu (tofu).[1] It is regarded as one of the representative dishes of commoners' food in Korea.
Bean paste, tofu, and vegetable stew, and a mixed green salad / 된장찌개, 겉절이 / Doenjang chigae, gutjulee (or doenjang jjigae, doenjangjjigae, dwenjang jjigae, doenjang chigae)


And here is the recipe to make Doenjang Chigae:
Deon Jang Chigae
(Bean paste and vegetable stew)
Ingredients:
1 medium size potato
a zucchini or a squash
1 medium size onion
garlic
1 green onion
100-150 grams of tofu
4 shrimp
Almost all Koreans love this food, and I think you will, too!
Prepare a ceramic pot to put all the ingredients in.
Peel the potato, cut it into 2 cups worth of cubes, and put them into the pot .
Cut zucchini into 2 cups worth of cubes, and put them into the pot.
Cut your onion into chunks, and put them into the pot.
Slice your green chili pepper, and put it into the pot.
Prepare 7 large dried anchovies by removing their heads and intestines, chop them up, and put them  into the pot.
Chop up 4 shrimp and put them into the pot.
Mince 5 cloves of garlic and put it into the pot.
Your pot will now be 2/3 full with your ingredients.
Submerge everything in water and cook it over high heat.
*tip: Don't put too much water, just enough to cover everything
When it starts boiling, add 4-6 tbs of bean paste, stir the stew, and keep cooking
When the stew is sizzling and all ingredients are cooked, cut your tofu into cubes, chop up 1 green onion, and add them to the stew.
Occasionally stir the boiling stew with a spoon.
Serve it with a bowl of rice and other side dishes.
*tip: to check whether or not the ingredients are cooked, taste the potato.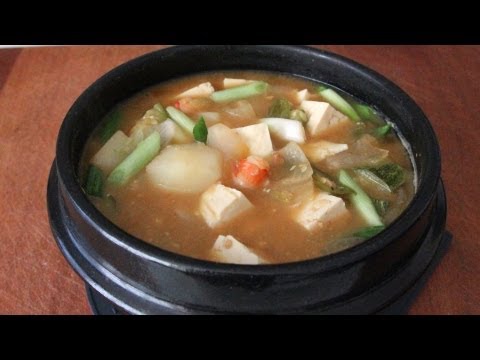 Korean style mixed green salad
Ingredients: a big bowl of mixed greens (you can replace it with lettuce), cucumber, 1 green onion, 1 clove of garlic, soy sauce, sugar, sesame oil, and sesame seeds
Wash a big bowl of mixed greens (5-6 cups) and drain it. If you use lettuce, tear it up into bite sized pieces.
Slice cucumber thinly (cut cucumber in half in length first, and slice it diagonally) and add it into the bowl.
Make the sauce by mixing up 3 tbs of soy sauce,  1 tbs of hot pepper flakes, 1 ts of sugar, and ½ tbs of sesame seeds and 1tbs of sesame oil
Mix the vegetables with the sauce
Transfer the salad to a glass bowl or a big plate and serve it
Serving it all together:
In a big bowl, place rice first, then add a scoop of doen jang jjigae and the vegetable salad ("gutgeorie"). Mix in some hot pepper paste and sesame oil. Wow, it'll be delicious!
(Ps. This is one of my favorite Korean cuisine. :p)
source: wikipedia; en.korea.com and some sources
Editor : monikazhoon
View all Posts
※The Korea Tourism Organization is not responsible for the content of this blog, and the opinions expressed do not necessarily reflect those of the Korea Tourism Organization.

※To ensure the smooth operation of this site, the Korea Tourism Organization reserves the right to delete comments which do not adhere to the guidelines.